february 2003: Junkie Brewster's just bought an ukulele, she absolutely doesn't know how to use it (nor other music instrument else), she spends her time taking it in arms and looking at it euphoricly and daftly smiling.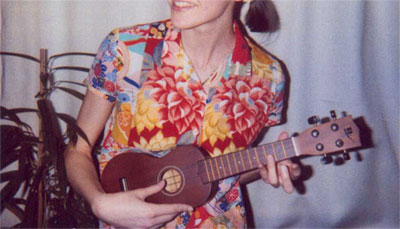 photo: Chloé Michaut (composition: Junkie).
13 june 2003: first appearance on stage during the great P.M.R. party at Molodoï.
15 minutes of collective délirium for a one and only song. As i's the only one she has learned, for the curtain call she sings another one but accappella.
Well, this page is under construction.
Soon I'll have time to.
pictures (extracts from the video, thanks Squale) from live at bar'atteint's (strasbourg) 9th november 2003:
-1
-2
-3
-4